My Team
I take customer service very seriously. So does my staff. Together, we are committed to providing exceptional customer service to all of our clients.
If you need to schedule an appointment, make changes to your policy, submit a claim or request any other service, please let us know. We will respond promptly.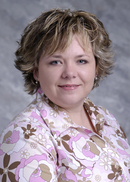 Mandy P Glover
I have been with Northwestern Mutual since the spring of 2012. I wear many hats here, but the one most important to me is that of customer service. My main goal is to make sure that you have the best service I can give.
I have been married to the love of my life, Chad, for 19 years and we have three beautiful daughters, ages 17, 15 and 12. I am an avid marching band, competition cheerleading, and softball mom. In my spare time, I enjoy reading, dabbling in photography and whipping up awesome meals for my family and friends.